APTECH JOB MELA 2021
Out2sol participated in Aptech Job Mela 2021 at aptech training center Karachi Thursday 18th of November 2021 careers opportunities of fresh candidates
Aptech vision 2021
Out2sol participated in Aptech vision 2021 at pool marque Marriott hotel Karachi Mega software exhibition in Pakistan saturday 13th of november 2021
TECHON 4.0 APTECH
Out2sol Attended Project Exibition At APTECH KARACHI #Project Exhibition Categories: 3d Game Development 2d Game Development Startups Robotics IINTERNET OF THINGS
P@SHA ICT AWARDS 2021
Out2sol Attend P@sha ICT AWARD AT BEACH LUXARY HOTEL KARACHI P@sha Presenting our lead for the Roundtable on Innovation in Diversity & Inclusion for the P@SHA ICT Awards,
new out2sol office b150
out2sol new office opening ceremony All team joined and celebrate
TECH NIGHT PASHA MEETUP
TECH NIGHT INDUSTRY MEETUP AT KABABJEES DO DARYA KARACHI
South Region Tech Leaders
P@SHA Tech Leaders Breakfast joining @ MARCEL BoatBasin DHA Karachi
ITCN Asia - Industry Meetup
ITCN Asia - Industry Meetup Sep-2021... Out2Sol Joins Hand with Tech INDUSTRY Leaders addressing Challenges IT Industry is facing on. Event DRIVE By .. Member of IT Committee (FPCCI)
Serving CCC NOW
@ OUT2SOL We are PROUD to SERVE CCC, a world-class digital & US-based global leader in CX management. A joint venture of (STC) is the leading provider of TELCO services in the KSA & operators in Middle East.
Tech Incubator Program
Out2Sol Launches its Tech Incubator Program in Collaboration with Aligarh Institute of Technology for the Pass Out Fresh & Graduates
In-Center Recruitment Drive OUT2SOL
APTECH Launches September 21 In-Center Recruitment Drive for Software Engg to Join OUT2SOL Team
OUTING AT ROHA FARMHOUSE
OUT2SOL Team Spent OUTING at ROHA FARM HOUSE OVER A NIGHT
COLLABORATION with aptech
Out2Sol & APTECH Join Hands 14th August 21 to Develop YOUTH on Advance Software Developments
COLLABORATION WITH RSM
Alhamdulillah Out2Sol is selected as Technical Solution Delivery Partner with RSM ALLIED ACCOUNTANTS & SIGNED MOU with RSM ALLIED ACCOUNTANTS Saudi Arabia.
P@SHA MEETUP
Chairman P@SHA & Member PM Taskforce IT&T Barkan Saeed pay a visit at OUT2SOL DEV-LAB Office & Meetup COO OUT2SOL Muhammad Azeem Uddin
QUARTER 2 CONFERENCE MEETUP
QUARTER 2 REVIEW MEETUP KARACHI LASANIA HOTEL ON 10TH JULY 2021
DIGITAL PAKISTAN POLICY WORKSHOP
Out2Sol Attends Digital Pakistan Policy 2021 WorkShop with Ministry of IT & Telecom Dated: Jun 17, 2021 10:00 AM Islamabad, Karachi, Tashkent
OUT2SOL TAWASUL APPS LAUNCH
OUT2SOL DevLAB Team celebrates SUCCESSFUL Launch of Tawasul Mobile Apps on Play Store & Apps Store.
OUTING 2021 AT HINGOL NATIONAL PARK
OUT2SOL Team Spent OUTING at Kund Malir' beach in Balochistan, Pakistan located in Hingol National Park, about 150 kilometres from Zero-Point on Makran Coastal Highway. It is located 236 kilometres west of Karachi, the largest city of Pakistan.
OUT2SOL 23rd MARCH CELEBRATION
Out2sol Karachi team attend lunch at royal spice on 23rd march
OUT2SOL DevLAB celebration
OUT2SOL DevLAB celebrates SUCCESSFUL Launch of FUEL Tracking System at PORT DP World Jeddah for monitoring FUEL Consumption KPI's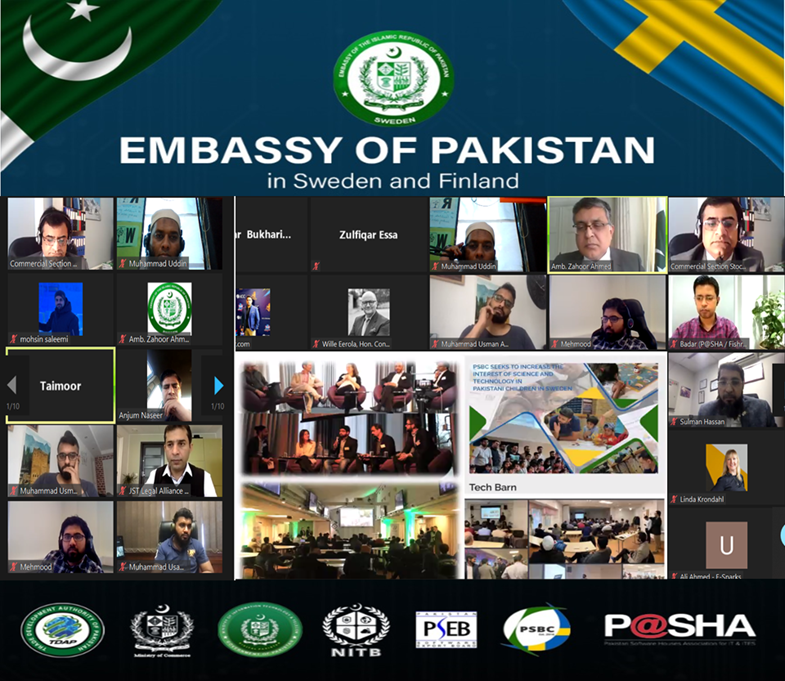 VIRTUAL EVENT of B2B Engagement
Out2Sol Joins the VIRTUAL EVENT of B2B Engagement with IT and Facilitating Bodies in Nordics SWEDEN....Organised by PSEB
CPD Session on "Project Management"
Out2sol Team Attends PROJECT MANAGEMENT CPD Session At UIT Usman Institute of Technology delivered by Engr. Kinza Ansari.
APTECH JOB FAIR 2021
Out2sol Collaborate With APTECH Asia PAKISTAN Chapter in Youth Career Development roadmap as hand shaking alignment for the talent & resource onboard to meet IT industry demands.
Software Development Processes
Out2sol TECH Lead runs In-House Workshop on Software Development Processes. PART of Developing Resources Onboard.
ANNUAL CONFERENCE MEETUP
ANNUAL REVIEW MEETUP KARACHI MARRIOT HOTEL ON 30TH JANUARY 2021
PAKISTAN EXPORT BOARD INTERNATIONAL
OUT2SOL attends Pakistan Export Board INTERNATIONAL MeetUP Conference in Dec-2020 Trade Minister, P@SHA, PSEB & Other IT Officials attends EMERGING PAKISTAN Event LIVE
MEA BUSSINESS AWARDS
ٱلْحَمْدُ لِلَّٰهِ TODAY we got ANOTHER acknowledgement from MIDDLE EAST BUSINESS ASSOCIATION for Best Service Provider in Industrial Sector Contracting * THANKS to ALL TEAM who are CONTRIBUTING in levering OUT2SOL to NEXT dimensions *
SEAMLESS EXHIBITION
OUT2SOL Participated in Seamless PAYMENTS - FINTECH - E-COMMERCE - RETAIL Tech Exhibition 2020 in UAE 100+ Corporate's & Tech Companies EXHIBITORS participated in SEAMLESS UAE
OUT2SOL TEAM DINNER KARACHI OFFICE
OUT2SOL TEAM Outdoor DINNER 2020 GATHERING AT SHAHEEN SHINWARI beautiful over night GROUP EVENT Q4
OUT2SOL TEAM
GROW TEAM PROGRAM EXERCISE 2020 held in Out2Sol DEV LAB Office at Karachi.
MENA ISC
Out2Sol Attends MENA Energy Meet 2020. To visit the Expo Hall and Auditorium for Live follow the LINK. https://menaenergymeetvirtual.com/live
KARACHI OFFICE TEAM 2020
Alone we can do so little; together we can do so much ALHAMDULLILAH .
DIGITAL TRANSFORMATION Web & Apps PROJECT delivered by OUT2SOL
DP World is a leading enabler of global trade and an integral part of the supply chain. DIGITAL TRANSFORMATION Web & Apps PROJECT delivered by OUT2SOL.
Appreciation on DP WORLD E-PAYMENT system LAUNCH
ALHAMDULILLAH another Milestone of our Team DP World got official appreciation for GO Live on Invoice E-payment integrated with Gate pass Project, around 100 (Brokers and consignees) have registered in Launching Phase. https://twitter.com/jeddahport?lang=en
PAK Trade Minister visited OUT2SOL
Pakistan Trade Minister Mr. Azhar Ali Dahar pay a visit at OUT2SOL Stand & share his reviews, HOW Pakistan TECH companies Collaborate & increase Business activities in Middle East to contribute in Out Sourcing IT activities to Country.
Saudi ioT 2020 March 08 - 10
Saudi IoT is a flagship event of the Kingdom of Saudi Arabia aiming at "Redefining Communications" in the region for the growth & development of technology. Organized by New Horizon, under the governance of Ministry of Communications & Information Technology (MCIT)
Sage Sessions, Jeddah, Nov 27th 2019
Sage Sessions, Jeddah, Nov 27th 2019 ... age invites you to 'Keep It Simple' with the launch of Sage 300 People. The all-in-one HR and payroll solution designed to simplify organisational complexities, so you can focus on what really matters: building a successful business.
Out2Sol at Seamless
Out2Sol at Seamless Head to Dubai World Trade Centre for the latest edition of Seamless Middle East and stay ahead of the curve in the payments, fintech, identity, e-commerce and retail industries.
GITEX-2019 - 15 Countries visited our Booth
GITEX is bringing together the most innovative, exciting & ambitious tech startups to showcase their world-changing ideas to an audience of hand-picked international investors.
OUT2SOL @ SAP Gala Dinner DUBAI UAE
Out2Sol attended The SAP Sense - Gala Dinner 8th Oct 2019 at Coca Cola Arena, City Walk, Dubai
PSEB Mr. Salman Hassan and Mr. Zohaib Khan P@SHA visited GITEX Technology Week 2019 in Dubai World Trade Centre.
PSEB Mr. Salman Hassan and Mr. Zohaib Khan P@SHA visited GITEX Technology Week 2019 in Dubai World Trade Centre.
Extreme Commerce Event
Out2Sol Team joins the Extreme Commerce Event with Sunny Ali - CEO Extreme Commerce LLC on PAD platform in DUBAI UAE
Out2Sol participation in GITEX 2019
Out2Sol to participate in GiTex 2019, Dubai
Team Out2Sol opening InResto published in AlamArajol Magazine
AlamArrajol Magazine published the opening of InResto with Out2Sol
DP World Jeddah Mobile App
Out2Sol delivered mobile App for DP World Jeddah
Out2Sol & AIM InResto Roadshow 2019
Out2Sol & AIM InResto Roadshow 2019 highlights
InResto Partnering AIM
ALHAMDULILAH Out2Sol signed a PARTNER SUPPORT Contract with Worlds LEADING Restaurant Management Solution Company with over 10,000 restaurants businesses in region. Hope Inshaa ALLAH this will take us to next step forward in international market
InResto Opening
InResto Opening at Carlton Hotel Jeddah
Best IT Outsourcing Company 2019
CV Magazine featured Out2Sol as Best IT Outsourcing Company 2019